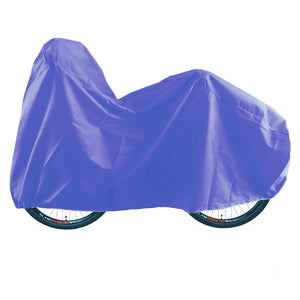 BikeNwear Cycle Cover Color-Blue
Material-Polyester
Polyester Material Characteristics-Durable, Soft, and Lightweight environment-friendly fabric.
Water Resistance
Dust Proof
Can secure the cycle from UV rays and scratches.
Easy to cover the cycle.
Suitable for all adult cycles
The cover is having elastic at both the end 
The buckle is provided to secure the cover.
The cover is being supplied in the pouch so that can be store safely when not in use.
Covered 3 months warranty against any manufacturing defects.