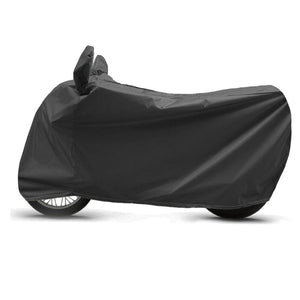 This BikeNwear Body Cover is made of heavy-duty waterproof coated fabric.
The approximate weight of body cover vary from 700 Grams to 1000 Grams
The cover will provide 100% waterproofing to precious part of your bike 
The cover is fitted with a plastic buckle at the lower portion to secure the cover.
Elastic at both ends of the cover for better gripping
Provide Fully Coverage to your bike
Inbuilt mirror pockets for better fitment
The Cover is well suitable for all weather conditions.
Bikenwear is a brand that offers a range of body covers for motorcycles, including the Jawa motorcycle. These covers are designed to protect your bike from dust, rain, and other environmental factors that can damage its exterior.
To purchase a Bikenwear body cover for your Jawa motorcycle, you can visit their official website or other online retailers that offer their products. You can also visit a local motorcycle accessories store or dealer that carries Bikenwear products.
When selecting a Bikenwear body cover for your Jawa motorcycle, be sure to choose the appropriate size and type of cover that is compatible with your bike model. This will ensure a proper fit and maximum protection for your motorcycle.