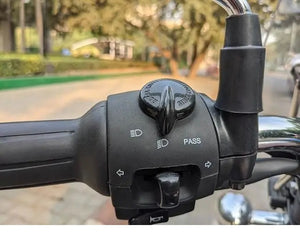 Handle Bar Module Switch LH Side For Royal Enfield Motorcycle New model classic 350 and Meteor 350
The Royal Enfield LH switch module for the Meteor and the new Classic is a component of the motorcycle's electrical system that is located on the left handlebar. It includes the controls for the turn signals, horn, high/low beam headlight, and passing switch.
If you need to purchase a replacement LH switch module for your Royal Enfield Meteor or new Classic, you can contact a Royal Enfield dealership or authorized service center to order one. Alternatively, you can also find aftermarket options from various motorcycle parts and accessories retailers both online and offline. It's important to ensure that any replacement switch module you purchase is compatible with your specific make and model of Royal Enfield motorcycle.